Getting the right expertise is incredibly important to the success of any organization and that's no less relevant when it comes to mobile app testing and test automation. It is important to remember that used tools and technology are just enablers. TekMindz is a leading software development company in India that help unearths software defects to bring efficiency and accuracy into testing services. We have talented and certified QA software testers who leverage our considerable IT expertise that extend from traditional system and regression testing to complex services. Being expertise in both business and technical aspects of testing has enabled us to create innovative approaches that can deliver exceptional results. We harness established testing methodology and employ rigorous industry standards to maintain software quality.
Our robust testing processes, specialized tools, and consulting expertise enhances testing efficiency and precision that ultimately result in reduced costs and decreased cycle times. We use state-of-the-art testing tools that leverage established methodologies to provide your organization with a multitude of benefits such as enhanced business readiness, superior software quality, and real competitive advantage. Our comprehensive testing expertise includes a robust testing strategy, execution, and management across an unparalleled range of industries and products.
Benefits of Testing
Here are the benefits of testing expertise.
Improved software quality.
It helps reduce maintenance cost.
It significantly reduces time to market.
It encourages flexibility.
It minimizes the cost to set up additional resources like hardware and software.
The Advantage you get with TekMindz
We, at TekMindz, take full responsibility for the software quality from requirements to production and subsequently, provide tried-and-tested techniques to significantly reduce manual dependencies, ultimately leading your business to success.
We relentlessly focus on growing other core areas of your business while saving your time, money and helping deliver an exceptional customer experience.
We emphasize on maintaining standards throughout the overall testing process, enabling progress to be continually tracked, measured and reported.
Our holistic approach to software testing helps combine testing and operations to produce a seamless end-to-end process that significantly reduces the risk of human error and results in faster, safer and smaller releases.
We help significantly increase the release of the software, minimizing business-impacting incidents and improve overall control and accountability across the process of production and development.
Learn Why TekMindz for Testing Offerings
Reusable Test Assets
Based on our experience of working with multiple clients in various domains, we are able to provide solutions at the right time and in the right budget by usingmethodological testing approaches that include domain specific test cases, business process flows, and related use cases, process templates, and automation framework libraries.
Driven by Business Objectives
The software products should work for your users and for your business. Our methodological testing approach is focused on delivering business objectives and goals and the overall test plan preparation and execution is driven by this uncompromising philosophy.
Automation in the Planning Phase
We explore possibilities of test automation in the planning phase itself. We create a scalable, reusable, and flexible testing framework which starts delivering the benefits of test automation right from the first release of the product.
Testing COE
TekMindz's Testing Center of Excellence (TCoE) leverages the testing ecosystem to offer comprehensive testing solutions so as to deliver predictable quality and faster time to market for clients.
Featured Highlight
Creation of Quality Software with Comprehensive Testing
Our TCoE combines and establishes a comprehensive testing methodology with a wide range of industry standards and testing tools for its clients to get superior quality software, enhance business readiness, and realize competitive advantage
Helping Client with Robust Mobile Testing Applications
Our hands-on-experience in testing various natures of applications across different mobile OS from across service providers has helped us to devise an effective mobile testing strategy that promises of quality while keeping the budget in control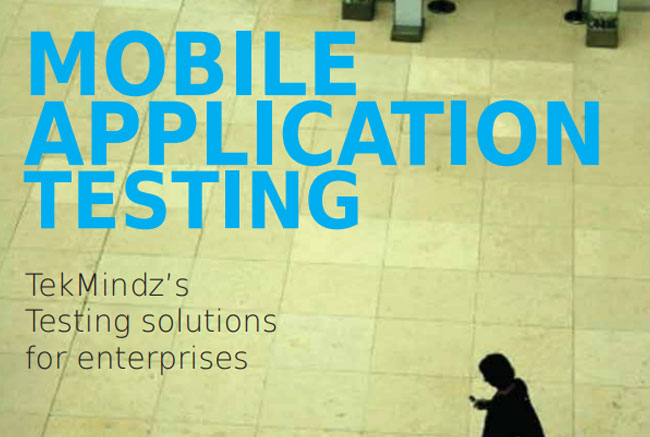 Featured Insight
Protecting our Clients with Security Frameworks
Enterprises nowadays need to protect business operations against security attacks and thus look for enterprise Information Security frameworks that protect against threats and damages. We at TekMindz help businesses in the appropriate selection and deployment of security infrastructure
Check out our Insights section for case studies and white papers on our various innovative solutions.
View our Presentation to know how we have provided cost effective complete solutions to our clients.
Click on the Capability section to know about our offerings that we deliver with trust and transparency.
View the What's New section to know how we are helping our clients by using emerging technologies.