In this technology-driven world, organizations are aggressively embracing an array of disruptive technologies such as Social, Mobile, Analytics & Cloud (SMAC) and Digital Security to quickly connect with the target audience, the complexity of implementing these technologies has substantially increased. The adoption of DevOps, unarguably, is rapidly becoming a reality that is breaking down silos within the IT organization. Most businesses are considering the implementation of Test Driven Development (TDD) or Behavior Driven Development (BDD) as a solution to enhance agility. When it comes to addressing the burgeoning needs of the market to ensure rich and hassle-free customer experience, enterprises need powerful testing methodologies and professional assistance, too. And this is where the importance of Independent testing comes into play.
TekMindz is a leading software product development company that offers innovative testing solutions to improve resilience and predictability. Being focused on the avant-garde technology trends and testing requisites, we have established a strong expertise in software testing, while strengthening our competence in a multitude of technology testing areas including Performance, Big Data Testing, Mobility, and Automation. We have a fervent crew of QA software testers who have developed several testing accelerators, frameworks and migration utilities to significantly improve software quality and time-to-market. With all-embracing experience in delivering exceptional testing services, we support continuous integration, Test Driven Development (TDD) and Behavior Driven Development (BDD), ensuring your business gets maximum value.
Benefits of Independent Testing Services
Here's the list of the benefits of Independent Testing Services.
Impartial quality check
Better customer perspective
Expert testing service
Low cost and quicker Testing Services
Better expertise, security audit, and performance enhancement
Risk reduction and availability of requisite skills.
The Advantage you get with TekMindz
Our team of independent software testers can constantly dig out pitfalls, ensuring the quality of software is maintained.
Our talented pool of engineers and QA testing specialists can bring their assumptions to testing and reviews that assist in finding out overlooked defects and problems in desktop/mobile applications.
We ensure that proper communication is maintained between your development team and our testing team that allows us to report testing results whilst offering you complete results within minimum turnaround.
We will always make sure that money that you spend on the software testing services wisely and carefully.
Our purpose-driven approach to independent testing ensures you always get the best software solutions from conceptualization to implementation.
These days, companies look for encompassing testing approach that is dynamic and flexible to accommodate all the requirements and that can fast-track the progress in product development. At TekMindz, we have one of the best Independent Testing Service units which offer unique end-to-end Agile Testing methodology. The quick testing process is also known as Hyper-Testing in the industry. It is in the line of quality engineering practices which ensure the companies to avail Quality Assurance Engineering or QAE process. Our QAE process comprises of time-tested methodologies, innovative and advanced techniques, and expert advice. We have 200+ test engineers and QA experts for flawless and effective testing services before the product launch.
TekMindz offers a vast range of Independent Testing Services to meet different customers' requirements. We have a dedicated Testing Center of Excellence and skilled testing professionals who have already developed a comprehensive security testing framework based on OWASP, WASC, SANS security programming guidelines.
Learn Why TekMindz for Independent Testing Services
Reusable Test Assets
Based on our experience of working with multiple clients in various domains, we are able to provide solutions at the right time and in the right budget by usingmethodological testing approaches that include domain specific test cases, business process flows, and related use cases, process templates, and automation framework libraries.
Driven by Business Objectives
The software products should work for your users and for your business. Our methodological testing approach is focused on delivering business objectives and goals and the overall test plan preparation and execution is driven by this uncompromising philosophy.
Automation in the Planning Phase
We explore possibilities of test automation in the planning phase itself. We create a scalable, reusable, and flexible testing framework which starts delivering the benefits of test automation right from the first release of the product.
Testing COE
TekMindz's Testing Center of Excellence (TCoE) leverages the testing ecosystem to offer comprehensive testing solutions so as to deliver predictable quality and faster time to market for clients.
Featured Highlight
Creation of Quality Software with Comprehensive Testing
Our TCoE combines and establishes a comprehensive testing methodology with a wide range of industry standards and testing tools for its clients to get superior quality software, enhance business readiness, and realize competitive advantage
Helping Client with Robust Mobile Testing Applications
Our hands-on-experience in testing various natures of applications across different mobile OS from across service providers has helped us to devise an effective mobile testing strategy that promises of quality while keeping the budget in control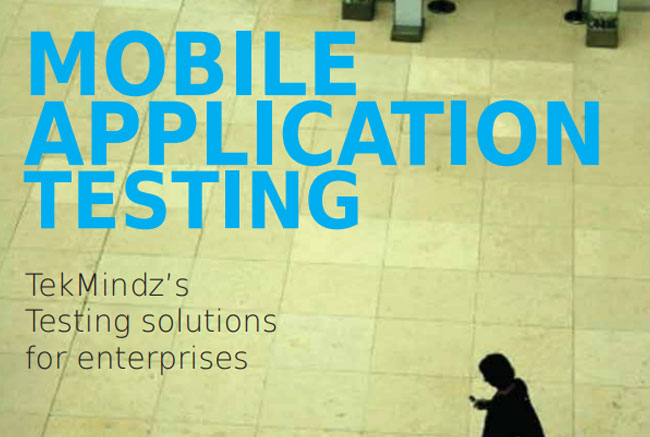 Featured Insight
Protecting our Clients with Security Frameworks
Enterprises nowadays need to protect business operations against security attacks and thus look for enterprise Information Security frameworks that protect against threats and damages. We at TekMindz help businesses in the appropriate selection and deployment of security infrastructure
Check out our Insights section for case studies and white papers on our various innovative solutions.
View our Presentation to know how we have provided cost effective complete solutions to our clients.
Click on the Capability section to know about our offerings that we deliver with trust and transparency.
View the What's New section to know how we are helping our clients by using emerging technologies.