TekMindz has delivered over 30 projects in eGovernance for the Federal Government of Nigeria, Tanzania, Republic of Ghana and India for their numerous government Ministries & Departments since 2008.
We have been leveraging cutting edge technologies to reshape the governance of Integrated payment Platform, Immigration services, taxation and internal revenue system, Education and Learning management System, the complete National Postal Management System, Driving License and many more – providing cost-effective, long term and stable solutions.
We understand the significance of information, security and Government liabilities for citizens, businesses and other governments. So we capitalize on our skills and experience and continue to deliver eGovernance solutions that deliver security, scalability, effectiveness and ease of use. Our eGovernance solutions have helped governments efficiently deliver a wide range of public services.
We help Government organizations run better processes with solutions such as:
Business process automation
Development of web portals with specific focus on ease of use of these portals
Secured and scalable solutions with cloud solutions etc.
Extending the government services by developing mobile solutions
Transformational Journey of empowering Government
Learn Why TekMindz for EGovernance
Agile at its best
Our specializations are on adaptive engagement models, skilled professionals on agile methods and tools, fast iterations, and exact requirements alignment along use cases and deliverables
Transparent Collaboration
Transparency in communication and collaboration is important and we are just extension of your team
100% Quality Assurance
Quality is one thing we never compromise on. Hence, we follow strategies like code review, knowledge management, security compliance and automated builds and testing
Dedicated Team of Professionals
Our Team of Professionals are updated with new technologies, best of practices, trainings and specialized in architectures
Featured Highlight
Improved Public Services for Citizens
TekMindz develops an Internally Generated Revenue Assurance
Platform for Revenue collection for an African Municipal Assembly.
The Ministry of Science & Technology
TekMindz has developed a Human Resource Management and Information System for the Council of Scientific & Industrial Research (CSIR), an autonomous Scientific Research Organizations under the Ministry of Science & Technology, Government of India.
Making the difference through technology
eGovernance is a strategic vertical and a major focus area in TekMindz. With that focus, TekMindz enables governments to transform public service delivery and simplify the lives of citizens through efficient eGovernance. Leveraging on skills and
technologies developed over the years, we have taken major initiatives in eGovernance, offering solutions and services cutting through geographical barriers.
Beyond the Waterfall Model
TekMindz enables System Automation for Applications & File Processing through specially engineered Agile Methodology for the Ministry of Science & Technology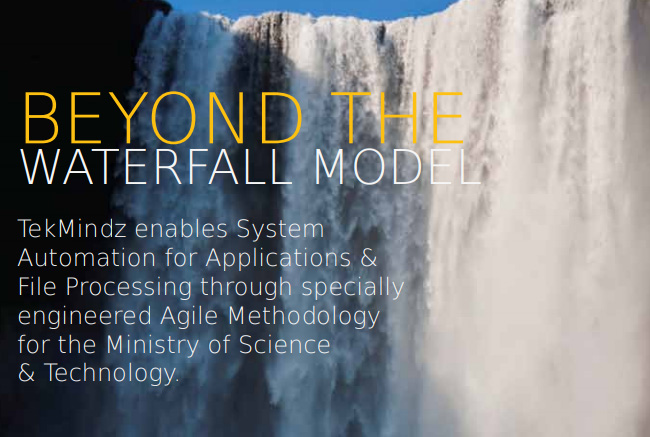 Empowering Governments Leveraging Technology
TekMindz has delivered over 30 projects in eGovernance for the Federal Government of Nigeria, Tanzania, Republic of Ghana  for their numerous government Ministries & Departments .
Featured Insights
A Single window solution for Passport & Visa application for the Immigration Ministry.
The ministry was looking to improve the processing capacities and the turn-around time of Immigration Offices and their support organizations to manage the operations effectively, gain end-user satisfaction, and provide better services, on a sustainable basis, to all users across the world.
Check out our Insights section for case studies and white papers on our various innovative solutions.
Click on the Capability section to know about our offerings that we deliver with trust and transparency.
View our Presentation to know how we have provided cost effective complete solutions to our clients.
View the What's New section to know how we are helping our clients by using emerging technologies.