In this competitive and fast-changing business landscape, it's incredibly important for businesses to build consistent and high-quality software applications to enhance their competitiveness. Marketing faulty and defective applications, however, are a few of the challenges that could negatively impact your business reputation and customer goodwill. By carrying out functional testing for all applications, companies can minimize the chances and get immense business benefits, instead.
Due to the evolving demands of end-users, the risks of releasing a new product without quality assurance has significant implications. That is the reason why organizations are always in a need for independent QA outsourcing and testing vendors, who are not biased by the development unit, for the success of a quality product.
TekMindz is a leading product design and development company in India that offers a vast array of services for testing software systems & applications. We strictly follow a robust approach and offer personalized test plans that ensure all the functional testing solutions provided by us are aligned to your respective business needs.
We have a fervent crew of experienced QA software testers who are specialized in providing stellar quality assurance services and functional testing across a multitude of platforms such as mobile, desktop, cloud and web services testing. With our effective solutions, we ensure that the applications are verified for independent software vendors and large-scale organizations. Our innovative testing approach is well structured & leverages upon demonstrated industry standards.
Benefits of Functional Testing
Here are the benefits of functional testing.
It ensures that the customer or end-user is fully satisfied.
It produces a defect-free product/software.
It ensures all the requirements should be met.
It ensures the application/software/product must function properly.
It ensures that the software/product works as predicted.
It helps ensure security and safety.
It significantly product quality.
The risk associated with the product/software is substantially reduced.
The Advantage you get with TekMindz
Here's why you should choose us.
With our flexible & transparent approach, we can quickly adopt modified deliverables & specifications.
Our team of skilled & knowledgeable testers rigorously work to offer personalized & robust software test plans.
We use state-of-the-art frameworks and tools to continuously meet the all-around functional and business requirements.
Our software quality testers are well-versed with Appium, HP's UFT, Selenium, SoapUI, Junit Watir, Cucumber, and more.
We help ensure the proper functioning of the software as our testing services are implemented in real-time conditions.
We endeavor to deliver valuable quality of project on-time integrated with quality assurance testing without breaking your account.
Types Of Functional Testing We Do
Functional Testing - Our Complete Process
The methodology that we follow in our testing approach is:
We deploy a requirements team in the early requirement phase of the software test life cycle to find errors early on
We use our own requirements analysis and traceability system to ensure tests cases are defined and traceable
The functional testing teams then do black box testing
This is followed by continuous monitoring and bug reporting of application/product under test
We use daily, weekly, fortnightly and monthly status reports for bug logs, reporting and statuses. We publish actionable reports and dashboards using various formats
The complete process of functional testing can be divided into the following stages:
Identifying functions that the software is expected to perform
Creating input data based on the function's specifications
Establishing output based on the function's specifications
Executing the test case
Comparing actual and expected outputs
Verifying the application works according to user needs
Functional Testing Tools We Use
Learn Why TekMindz for Functional Testing
Reusable Test Assets
Based on our experience of working with multiple clients in various domains, we are able to provide solutions at the right time and at the right budget by using methodological testing approaches that include domain specific test cases, business process flows, and related use cases, process templates, and automation framework libraries.
Driven by Business Objectives
The software products should work for your users and for your business. Our methodological testing approach is focused on delivering business objectives and goals and the overall test plan preparation and execution is driven by this uncompromising philosophy.
Automation in the Planning Phase
We explore possibilities of test automation in the planning phase itself. We create a scalable, reusable, and flexible testing framework which starts delivering the benefits of test automation right from the first release of the product.
Testing COE
TekMindz's Testing Center of Excellence (TCoE) leverages the testing ecosystem to offer comprehensive testing solutions so as to deliver predictable quality and faster time to market for clients.
Featured Highlight
Creation of Quality Software with Comprehensive Testing
Our TCoE combines and establishes a comprehensive testing methodology with a wide range of industry standards and testing tools for its clients to get superior quality software, enhance business readiness, and realize competitive advantage
Helping Client with Robust Mobile Testing Applications
Our hands-on-experience in testing various natures of applications across different mobile OS from across service providers has helped us to devise an effective mobile testing strategy that promises of quality while keeping the budget in control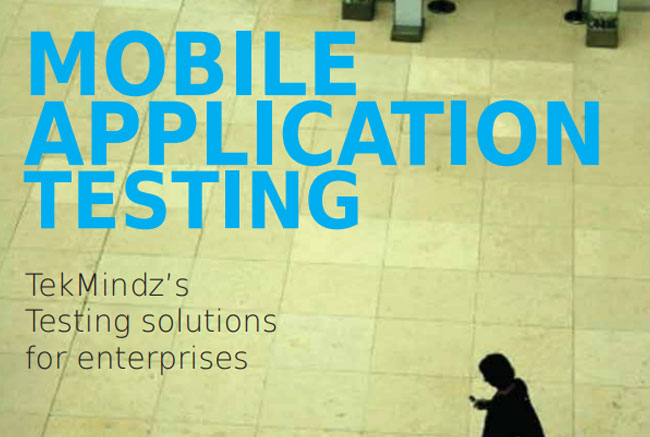 Featured Insight
Protecting our Clients with Security Frameworks
Enterprises nowadays need to protect business operations against security attacks and thus look for enterprise information security frameworks that protect against threats and damages. We at TekMindz help businesses with the appropriate selection and deployment of security infrastructure
Check out our Insights section for case studies and white papers on our various innovative solutions.
View our Presentation to know how we have provided cost effective complete solutions to our clients.
Click on the Capability section to know about our offerings that we deliver with trust and transparency.
View the What's New section to know how we are helping our clients by using emerging technologies.