Data is the paramount component that drives the success and affluence of any business and plays an imperative role in the optimization of the whole process. Data, however, has significantly changed with time concerning quality and quantity. With legacy systems becoming inefficient to deal with diverse datasets, all businesses have started flocking to contemporary data processing systems, i.e. data migration testing.
As the name implies, it ensures that the data migrated must be authentic without any alteration to information and with strict adherence to transfer rules. Data migration, however, becomes quite challenging when it involves a large or compound application with loads of data. A proper plan of migration is mandatory to keep up the data integrity, quality, and reliability.
TekMindz is a leading IT consulting and tech service organization that offers the best Data Migration testing services to reduce uncertain risks and ensure that the data has successfully been migrated and transformed without any impact on its quality. We provide a systematic validation and security testing strategy to quickly check your data.
Benefits of Data Migration Testing
Some of the benefits of database migration testing include:
Reduces the significant cost of media and storage and provides momentous improvements in Return on Investment (ROI).
Minimizes hassles to daily business operations with the least manual testing efforts.
Upgrades core applications and services while boosting the data's efficiency.
Besides providing immense benefits to enterprises, data migration also helps in building customer base as it efficiently eliminates hindrances that may hamper the robust relationship between customer and company.
Helps balance the resources to meet mushrooming needs of business datasets
The Advantage you get with TekMindz
Here's the list of reasons you must choose TekMindz for data migration testing services
Extensive experience in dealing with end to end data migration projects.
Follows an innovative approach to ensure data quality is maintained at multiple ETL (Extract, Transform and Load) processes.
Validation, staging, and examination of the content.
Certified experts for designing test strategy and project execution.
Lucrative and flexible option for various testing needs.
Learn Why TekMindz for Data Migration Testing
Reusable Test Assets
Based on our experience of working with multiple clients in various domains, we are able to provide solutions at the right time and in the right budget by usingmethodological testing approaches that include domain specific test cases, business process flows, and related use cases, process templates, and automation framework libraries.
Driven by Business Objectives
The software products should work for your users and for your business. Our methodological testing approach is focused on delivering business objectives and goals and the overall test plan preparation and execution is driven by this uncompromising philosophy.
Automation in the Planning Phase
We explore possibilities of test automation in the planning phase itself. We create a scalable, reusable, and flexible testing framework which starts delivering the benefits of test automation right from the first release of the product.
Testing COE
TekMindz's Testing Center of Excellence (TCoE) leverages the testing ecosystem to offer comprehensive testing solutions so as to deliver predictable quality and faster time to market for clients.
Featured Highlight
Creation of Quality Software with Comprehensive Testing
Our TCoE combines and establishes a comprehensive testing methodology with a wide range of industry standards and testing tools for its clients to get superior quality software, enhance business readiness, and realize competitive advantage
Helping Client with Robust Mobile Testing Applications
Our hands-on-experience in testing various natures of applications across different mobile OS from across service providers has helped us to devise an effective mobile testing strategy that promises of quality while keeping the budget in control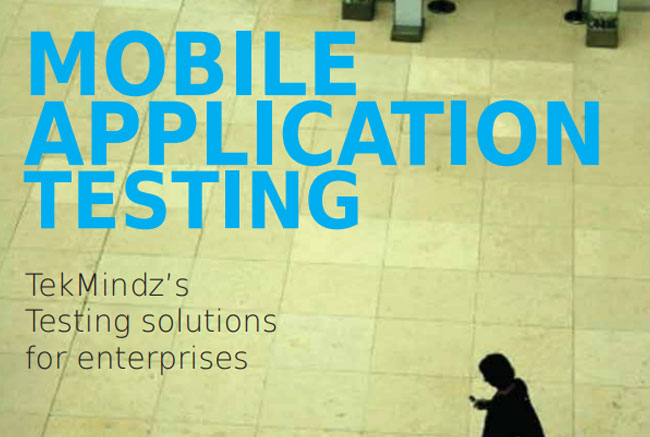 Featured Insight
Protecting our Clients with Security Frameworks
Enterprises nowadays need to protect business operations against security attacks and thus look for enterprise Information Security frameworks that protect against threats and damages. We at TekMindz help businesses in the appropriate selection and deployment of security infrastructure
Check out our Insights section for case studies and white papers on our various innovative solutions.
View our Presentation to know how we have provided cost effective complete solutions to our clients.
Click on the Capability section to know about our offerings that we deliver with trust and transparency.
View the What's New section to know how we are helping our clients by using emerging technologies.