Integration testing involves testing different modules by combining them to maintain the hassle-free operation of the application without compromising its integrity. Businesses tend to face problems and end up facing frequent system failures that are conducive to severe application damage.
TekMindz offers the best Integration Testing services and simulate different test scenarios related to a multitude of things like big data loads, data sharing, user roles configurations, etc. We have highly experienced professionals who verify that program components must work as proposed without faults. Our software performance testing experts help prevent unexpected functional errors, and random system failures, thereby proving an optimistic experience to the end-user.
We, at TekMindz, identify software quality by proven and reliable integration testing methods through the implementation of bottom-up, top-down, and "Big Bang" testing strategies. With our development team, our testers can indulge in the program to find hidden bugs and system faults, so you can get the stellar code quality. Our core strength lies in the integration testing for large-scale enterprise solutions, data storages, websites, mobile, and desktop applications, to say the least, while helping you succeed in developing successful software.
Benefits of Integration Testing
Here's why businesses should include Integration Testing in their application lifecycle:
It provides an organized technique for assembling a software system while perform regular tests to find errors that are associated with interfacing.
Integration testing can begin when the relevant modules are readily available without waiting for all the system modules being coded and unit tested.
Incremental testing or integration testing is incredibly important to verify whether the software modules have uniformity in working.
It includes several techniques such as Incremental, Big Bang Integration techniques Top-down, Bottom-Up, and Sandwich.
The Advantage you get with TekMindz
Here's why you should choose TekMindz for Integration Testing
Our fundamental priority is to cover your testing and quality assurance needs and helping development teams to deliver stellar quality results.
We efficiently use the agile methodology during the manual testing process to ensure seamless collaboration in the development team.
Throughout the process, we assure and deliver you the best quality of our services.
We develop detailed project documentation with precise data while focusing on further product maintenance and improvement.
Learn Why TekMindz for Integration Testing
Reusable Test Assets
Based on our experience of working with multiple clients in various domains, we are able to provide solutions at the right time and in the right budget by usingmethodological testing approaches that include domain specific test cases, business process flows, and related use cases, process templates, and automation framework libraries.
Driven by Business Objectives
The software products should work for your users and for your business. Our methodological testing approach is focused on delivering business objectives and goals and the overall test plan preparation and execution is driven by this uncompromising philosophy.
Automation in the Planning Phase
We explore possibilities of test automation in the planning phase itself. We create a scalable, reusable, and flexible testing framework which starts delivering the benefits of test automation right from the first release of the product.
Testing COE
TekMindz's Testing Center of Excellence (TCoE) leverages the testing ecosystem to offer comprehensive testing solutions so as to deliver predictable quality and faster time to market for clients.
Featured Highlight
Creation of Quality Software with Comprehensive Testing
Our TCoE combines and establishes a comprehensive testing methodology with a wide range of industry standards and testing tools for its clients to get superior quality software, enhance business readiness, and realize competitive advantage
Helping Client with Robust Mobile Testing Applications
Our hands-on-experience in testing various natures of applications across different mobile OS from across service providers has helped us to devise an effective mobile testing strategy that promises of quality while keeping the budget in control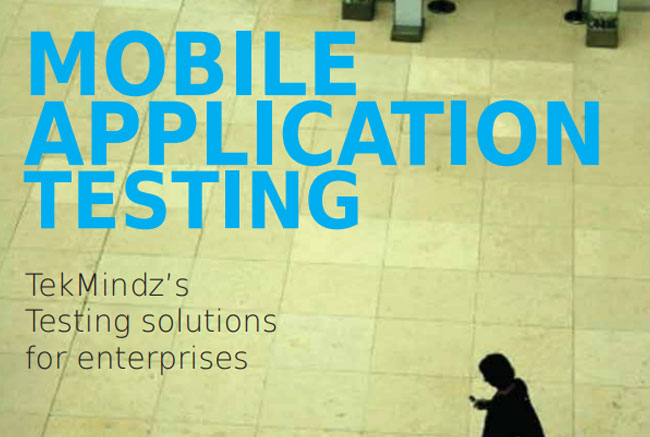 Featured Insight
Protecting our Clients with Security Frameworks
Enterprises nowadays need to protect business operations against security attacks and thus look for enterprise Information Security frameworks that protect against threats and damages. We at TekMindz help businesses in the appropriate selection and deployment of security infrastructure
Check out our Insights section for case studies and white papers on our various innovative solutions.
View our Presentation to know how we have provided cost effective complete solutions to our clients.
Click on the Capability section to know about our offerings that we deliver with trust and transparency.
View the What's New section to know how we are helping our clients by using emerging technologies.