The world of software has become immensely complex and competitive and it's now imperative for businesses to write every line of code that has the capability to run on all latest browsers. Because even the slightest mistake could lead to memory leaks and poor performance, businesses are flocking to code review testing which is a systematic examination that helps to find bugs and improve the software quality.
Source Code review is one of the best software testing services that play a paramount role in saving significant time and cost if implemented during the development process, especially after deployment. Software and applications, oftentimes, contain bugs and vulnerabilities, which substantially increase the chances that the product might face potential attacks from attackers trying to take advantage. TekMindz offers the best Code Review Testing services that effectively utilize the perfect blend of tech scan tools and manual testing review to detect cross-site scripting flaws, anxious coding practices, backdoors, and improper handling of external resources.
Benefits of Code Review Testing Services
Faster Results: Since there's access to the entire codebase of the application, it certainly helps to dig out flaws through code analysis and avoid the need to send test data to the application.
Security: There are tailored security testing solutions for your developers with code-level suggestions that include more in-depth checks to find all instances of associated threats and risks.
Overcome Testing Limitations: With this software testing service, vulnerabilities and threats can be easily detected that automated code scans might miss. It helps find out any flaws in design, weak algorithms, insecure coding practices and configurations.
Create Reports: A complete report of issues is provided that include an overall synopsis with strengths and weaknesses and provides necessary steps to overcome them.
The Advantage you get with TekMindz
Here's a list of reasons to choose TekMindz for code review testing service.
Preparation: Our team of testing experts conducts a meticulous study of the application followed by the creation of a broad threat profile.
Analysis: Once successfully gone through the application, our professionals use a hybrid approach and develop a specific code reviewer plan where automated scans are verified.
High-end Solutions: Our experts identify the bad data placed within the code and useless coding techniques that had been allowing attackers to gain access to software.
Verification: Once the analysis is completed, all possible security vulnerabilities are listed and corrective measures are taken to improve the development process, ultimately improve the software quality.
Learn Why TekMindz for Code Review Testing
Reusable Test Assets
Based on our experience of working with multiple clients in various domains, we are able to provide solutions at the right time and in the right budget by usingmethodological testing approaches that include domain specific test cases, business process flows, and related use cases, process templates, and automation framework libraries.
Driven by Business Objectives
The software products should work for your users and for your business. Our methodological testing approach is focused on delivering business objectives and goals and the overall test plan preparation and execution is driven by this uncompromising philosophy.
Automation in the Planning Phase
We explore possibilities of test automation in the planning phase itself. We create a scalable, reusable, and flexible testing framework which starts delivering the benefits of test automation right from the first release of the product.
Testing COE
TekMindz's Testing Center of Excellence (TCoE) leverages the testing ecosystem to offer comprehensive testing solutions so as to deliver predictable quality and faster time to market for clients.
Featured Highlight
Creation of Quality Software with Comprehensive Testing
Our TCoE combines and establishes a comprehensive testing methodology with a wide range of industry standards and testing tools for its clients to get superior quality software, enhance business readiness, and realize competitive advantage
Helping Client with Robust Mobile Testing Applications
Our hands-on-experience in testing various natures of applications across different mobile OS from across service providers has helped us to devise an effective mobile testing strategy that promises of quality while keeping the budget in control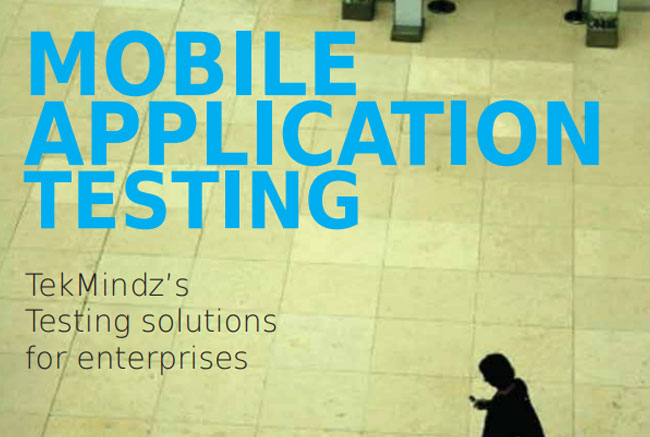 Featured Insight
Protecting our Clients with Security Frameworks
Enterprises nowadays need to protect business operations against security attacks and thus look for enterprise Information Security frameworks that protect against threats and damages. We at TekMindz help businesses in the appropriate selection and deployment of security infrastructure
Check out our Insights section for case studies and white papers on our various innovative solutions.
View our Presentation to know how we have provided cost effective complete solutions to our clients.
Click on the Capability section to know about our offerings that we deliver with trust and transparency.
View the What's New section to know how we are helping our clients by using emerging technologies.