We support our customers in leveraging product thinking in any particular domain. We are here to resolve their complex technological issues and meet their expectations. We do Product Conceptualization, Strategization and design, through agile development and testing and maintenance and support. We specialize in customer experience and align technology needs to business outcomes. In each and every step we are there for complete support. Our approach is very agile and our team of skilled professionals is a combination of prowess and passion! TekMindz offers product innovation, product modernization, product localization, process optimization, complete customization and more. Our specialization in new age smart technologies enables enriched designs, great quality and augmented user experience in products. We have developed several in-house products and therefore understand the challenges and complexities in developing, testing and in the final delivery and maintenance.
Learn Why TekMindz for Specific Specialized Product Testing
Reusable Test Assets
Based on our experience of working with multiple clients in various domains, we are able to provide solutions at the right time and in the right budget by usingmethodological testing approaches that include domain specific test cases, business process flows, and related use cases, process templates, and automation framework libraries.
Driven by Business Objectives
The software products should work for your users and for your business. Our methodological testing approach is focused on delivering business objectives and goals and the overall test plan preparation and execution is driven by this uncompromising philosophy.
Automation in the Planning Phase
We explore possibilities of test automation in the planning phase itself. We create a scalable, reusable, and flexible testing framework which starts delivering the benefits of test automation right from the first release of the product.
Testing COE
TekMindz's Testing Center of Excellence (TCoE) leverages the testing ecosystem to offer comprehensive testing solutions so as to deliver predictable quality and faster time to market for clients.
Featured Highlight
Creation of Quality Software with Comprehensive Testing
Our TCoE combines and establishes a comprehensive testing methodology with a wide range of industry standards and testing tools for its clients to get superior quality software, enhance business readiness, and realize competitive advantage
Helping Client with Robust Mobile Testing Applications
Our hands-on-experience in testing various natures of applications across different mobile OS from across service providers has helped us to devise an effective mobile testing strategy that promises of quality while keeping the budget in control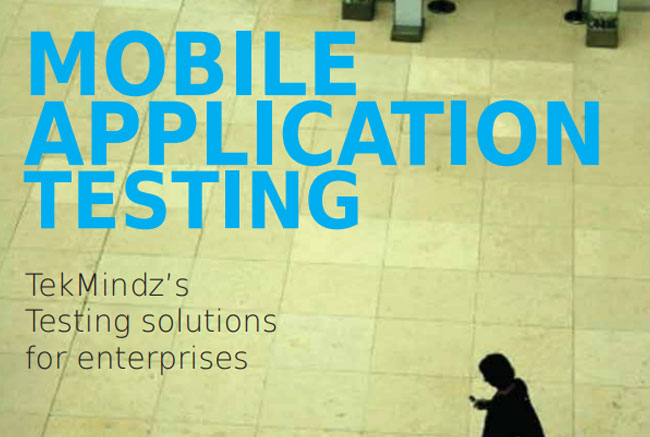 Featured Insight
Protecting our Clients with Security Frameworks
Enterprises nowadays need to protect business operations against security attacks and thus look for enterprise Information Security frameworks that protect against threats and damages. We at TekMindz help businesses in the appropriate selection and deployment of security infrastructure
Check out our Insights section for case studies and white papers on our various innovative solutions.
View our Presentation to know how we have provided cost effective complete solutions to our clients.
Click on the Capability section to know about our offerings that we deliver with trust and transparency.
View the What's New section to know how we are helping our clients by using emerging technologies.