When it comes down to developing safe and reliable applications, there must be a consideration of multiple security elements such as integrity, confidentiality, authenticity. Be it any application, it must have gone through the process of security testing to prevent security breaches, data leakage, flawless functioning while ensuring the respective application is adhere to standards and security vulnerability assessment. Security testing plays an imperative role in the development strategy of an organization. Since there's an increasing number of privacy breaches budding significantly, we adopt the latest industry standards and testing methodologies to carefully address security testing needs.
TekMindz possesses rich expertise in the security testing of enterprise applications, catering to diversified business needs. We have a team of software testing experts who have vast experience in serving clients across different industries regardless of their size and genre. Our Web application penetration testing find out threats and faults in applications, ensuring the respective risks are substantially reduced. Also, our code analyzers ensure your software code is benchmarked for increased software quality assurance.
We primarily follow the rigorous open web security project guidelines in our security testing services along with SOX, WAHH, PCI-DSS, HIPAA, OSSTM, WASC and NIST Standards that meet our application's requirements. These include a complete set of multiple checks for testing the security of your web application to find eliminate threats and ensures that no vulnerabilities are missed.
Benefits of Security Testing
Security testing protects your application from ever-growing cyber security threats that have been significantly mushrooming in this tech-dominating world.
It helps evaluate the effectiveness of controls and encrypt the application.
It ensures data integrity by preventing unauthorized usage, thereby maintaining your business's sincerity.
It helps build security layers for your application and maintains the required functionality.
It checks for compliance with requirements and standards
The Advantage you get with TekMindz
We have a large pool of security testing experts who have a proven track record in saving your application from security breaches.
We offer a detailed report that classifies vulnerability in different categories along with alleviation strategy.
Ensuring zero false positives with snap-shot of exploitation.
We also provide complete coverage of regression testing.
We ensure threat free application with an iterative strategy.
Open-source tools such as Acunetix, Cenzic Hailstorm, Hp Web Inspect, IBM App Scan, and Burp Suite Pro.
Types Of Security Testing We Do
Learn Why TekMindz for Security Testing
Reusable Test Assets
Based on our experience of working with multiple clients in various domains, we are able to provide solutions at the right time and in the right budget by usingmethodological testing approaches that include domain specific test cases, business process flows, and related use cases, process templates, and automation framework libraries.
Driven by Business Objectives
The software products should work for your users and for your business. Our methodological testing approach is focused on delivering business objectives and goals and the overall test plan preparation and execution is driven by this uncompromising philosophy.
Automation in the Planning Phase
We explore possibilities of test automation in the planning phase itself. We create a scalable, reusable, and flexible testing framework which starts delivering the benefits of test automation right from the first release of the product.
Testing COE
TekMindz's Testing Center of Excellence (TCoE) leverages the testing ecosystem to offer comprehensive testing solutions so as to deliver predictable quality and faster time to market for clients.
Featured Highlight
Creation of Quality Software with Comprehensive Testing
Our TCoE combines and establishes a comprehensive testing methodology with a wide range of industry standards and testing tools for its clients to get superior quality software, enhance business readiness, and realize competitive advantage
Helping Client with Robust Mobile Testing Applications
Our hands-on-experience in testing various natures of applications across different mobile OS from across service providers has helped us to devise an effective mobile testing strategy that promises of quality while keeping the budget in control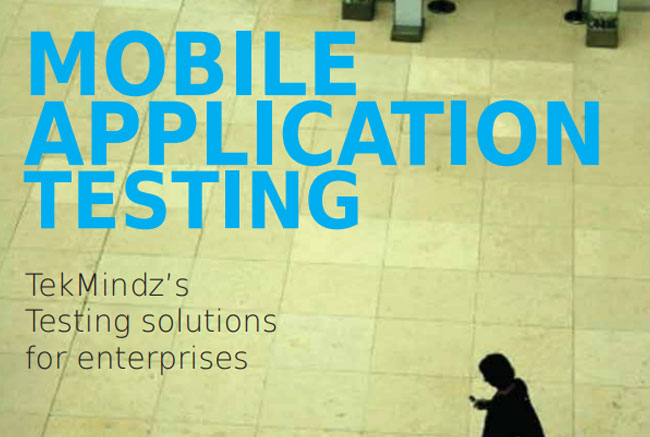 Featured Insight
Protecting our Clients with Security Frameworks
Enterprises nowadays need to protect business operations against security attacks and thus look for enterprise Information Security frameworks that protect against threats and damages. We at TekMindz help businesses in the appropriate selection and deployment of security infrastructure
Check out our Insights section for case studies and white papers on our various innovative solutions.
View our Presentation to know how we have provided cost effective complete solutions to our clients.
Click on the Capability section to know about our offerings that we deliver with trust and transparency.
View the What's New section to know how we are helping our clients by using emerging technologies.