There is no arguing with the fact that the product service design is incredibly important and a user-centered way of engaging users while customers are an integral part of surviving as we move into a service-driven economy. But if you're a business and want to move ahead with service design, then it takes both organizational and cultural changes, which is one of the biggest challenges that a company does face. TekMindz is a renowned product design service company in India that offers a proven service design process to get input from key stakeholders within the organization and real-world observation to determine the changes necessary to optimize service processes. Also, we help align processes as per the industry norms and best practices to ensure the success of your business. We have a talented pool of executive-level service professionals and product design experts with years of experience covering field and professional service operations, product, support, and e-service. Our consultants own profound knowledge at managing the evolving market change and complexities. Furthermore, our experts have experience in solving complex problems that challenge the industry.
Benefits of Service Design
Here are the benefits of service design.
It ensures that products and services are designed according to the needs of the users.
It helps maintain a robust relationship between departments.
It helps produce a positive customer experience.
It helps implement things sensibly while delivering the real value to the customer.
It helps strengthen customer orientation.
It helps eliminate redundancies that help improves employees' efficiency, minimize significant up-front costs, and conserves energy.
The Advantage you get with TekMindz
We, at TekMindz, ensure that all the respective processes and operating procedures are efficiently examined to identify new methods for improvement to deliver the most efficient service to customers without breaking the bank account. Here's why you should choose us.
We offer a complete review of all detailed processes.
Our service design team helps analyze and identify the faults in current processes.
We ensure that the alignment of new processes must adhere to industry standards and best practices.
We determine if any systems impact and required enhancements.
We analyze the resource requirements necessary to execute new processes.
We strive to create measures of success and key performance indicators.
We help monitor and track performance to ensure success.
Our Service Offerings in Service Design
Experience Evaluation
We always go one step ahead in understanding the customers' requirements. Once the exact need is shared, our team of professionals then start working on the evaluation approach. Right evaluation helps in availing persona analysis, user interviews, physical observation and design thinking. We work with detailing and with our deliverables; we also work on user's journey map along with experience moments.
Experience Strategy
We believe in leveraging the technologies and this is one approach that can really be powerful. There are many connected technologies which can be successfully integrated in a system and can easily empower the infrastructure, customer and people. We help our clients to avail this integrated cross medium digital experience that can perfectly align with the business model and can assist in achieving the business goals.
Service Co-creation
Understanding the requirement gaps is important for right design service. Thus, our professionals always strive to analyze and comprehend customer's exact requirements for the business to work as a bridge in between the service gaps. We assist with smart alerts, inbuilt analytics and with other embed connected experience.
Learn Why TekMindz for Service Design
Innovating New Products
By using TekMindz's prototype approach, customers are able to develop new and error-free products and also launch these in the market faster and more cost-effectively than the competition.
Design Research
Our new product design and development approach includes extensive research methodologies, and heuristic evaluation of features, buyer personas and user expectations to uncover valuable insights.
Human-centered Service Design
TekMindz values its customers and thus creates services that are user-friendly, meets the needs of the market, and are competitive. Our services help to build user-journeys that provide delightful customer experience.
Usable Products
TekMindz has a structured approach to create prototypes – we use paper prototypes to ideate the initial design ideas for early design concepts and thereafter use uncomplicated interactive media to develop high-level design prototypes.
Featured Highlight
Innovation Strengthening Market Position
Based on our design thinking, product experience expertise, that comprises rapid prototyping, feasibility, and product design. We have helped entrepreneurs to test the market by building a usable future-centric MVP version of the product. It is a Mobile White Label solution, developed within 3 months, achieving their time to market needs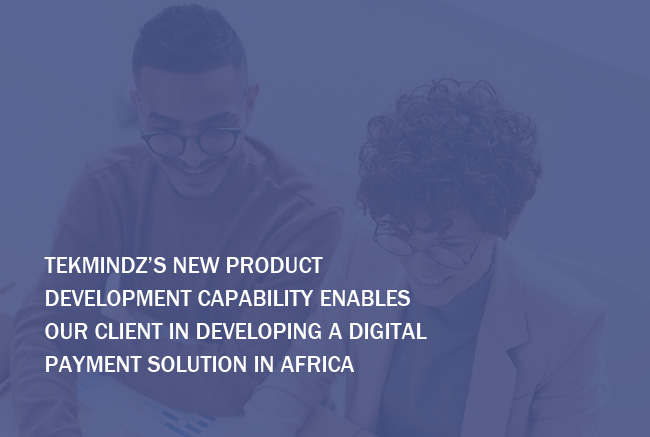 Redefining Customer Experience
By using a research design approach that is interactive in nature, TekMindz is able to explore the needs of the customers as well as gather a detailed understanding of the expectations of the end-user so as to create winning products.
Customers benefit by using TekMindz's UX design approach as our UX researchers and designers create winning products that meet customer preferences and provide rich and intuitive end user experiences and interfaces that are innovative, task-driven, and user-friendly.
Featured Insight
Student Social Networking
Being a product engineering partner, we at TekMindz were able to help our client in Africa, an educational and student networking web application, by designing a social media platform that integrates with their existing web based e-Education product.
Check out our Insights section for case studies and white papers on our various innovative solutions.
View our Presentation to know how we have provided cost effective complete solutions to our clients.
Click on the Capability section to know about our offerings that we deliver with trust and transparency.
View the What's New section to know how we are helping our clients by using emerging technologies.