When it comes to creating an unrivaled B2B customer experience, gone are the days when traditional ways used to dominate the market. There's no arguing that the nature of B2B tech products typically involve multiple layers of product usage and ongoing support, and product experience is not only essential but is significantly important for companies looking to grow and scale. Organizations, these days, don't have enough time to invest in knowing each aspect of product experience. Every interaction with a user is an opportunity, businesses don't want to miss but due to paucity of time, it becomes daunting to adhere to each need. Our comprehensive product design services helps to remove the obstruction between your business or organization while allowing us to refine world-class digital products and services.
TekMindz is the leading product design and development company that offers the best product experience services at a shoestring budget. From the initial phase of product definition to creating powerful and impactful designs, we offer the complete lifecycle of product design as per your needs. We have a team of talented designers with unrivaled expertise who deliver product experience by engaging with our customers at multiple stages of the new product development process, so we may make impactful designs and features. Our pool of product interaction designers, marketing strategists, engineers helps create innovative product designs and brand experiences. We offer a comprehensive product development strategy that includes market research, user interaction and visual design, brand and service design, consulting and product testing, and rapid prototyping.
Benefits of Product Experience
Here's why product experience is essential:Here's why product experience is essential:
It helps find the desires of your customer.
It helps build products your customers always wanted to have.
It helps drive stellar customer experiences.
It helps reduce downtime and save significant upfront costs.
It helps grow revenue optimization by building prospective customers.
The Advantage you get with TekMindz
We efficiently analyze the profile information, demographics and past experiences with your brand to target the potential customers.
We control contact frequency and managing global opt-outs to keep your user panel engaged and contented.
Our platform facilitates collecting data from the market, enriching it into high-grade content, and then personalizing it for use in targeted marketing.
We help you unleash the true potential of your product information by harnessing unique combination of state-of-the-art technologies.
We have access to numerous respondents that help us find the right audience.
Product Experience Offerings
Learn Why TekMindz for Product Experience
Innovating New Products
By using TekMindz's prototype approach, customers are able to develop new and error-free products and also launch these in the market faster and more cost-effectively than the competition.
Design Research
Our new product design and development approach includes extensive research methodologies, and heuristic evaluation of features, buyer personas and user expectations to uncover valuable insights.
Human-centered Service Design
TekMindz values its customers and thus creates services that are user-friendly, meets the needs of the market, and are competitive. Our services help to build user-journeys that provide delightful customer experience.
Usable Products
TekMindz has a structured approach to create prototypes – we use paper prototypes to ideate the initial design ideas for early design concepts and thereafter use uncomplicated interactive media to develop high-level design prototypes.
Featured Highlight
Innovation Strengthening Market Position
Based on our design thinking, product experience expertise, that comprises rapid prototyping, feasibility, and product design. We have helped entrepreneurs to test the market by building a usable future-centric MVP version of the product. It is a Mobile White Label solution, developed within 3 months, achieving their time to market needs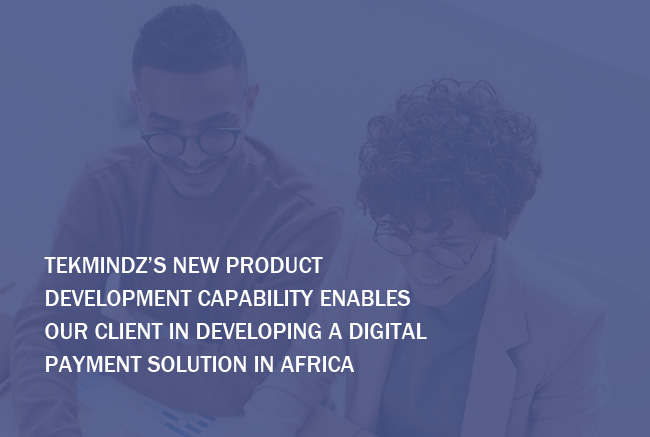 Redefining Customer Experience
By using a research design approach that is interactive in nature, TekMindz is able to explore the needs of the customers as well as gather a detailed understanding of the expectations of the end-user so as to create winning products.
Customers benefit by using TekMindz's UX design approach as our UX researchers and designers create winning products that meet customer preferences and provide rich and intuitive end user experiences and interfaces that are innovative, task-driven, and user-friendly.
Featured Insight
Student Social Networking
Being a product engineering partner, we at TekMindz were able to help our client in Africa, an educational and student networking web application, by designing a social media platform that integrates with their existing web based e-Education product.
Check out our Insights section for case studies and white papers on our various innovative solutions.
View our Presentation to know how we have provided cost effective complete solutions to our clients.
Click on the Capability section to know about our offerings that we deliver with trust and transparency.
View the What's New section to know how we are helping our clients by using emerging technologies.