Competition today has substantially increased and the only means to gain a strong foothold on the market in such a scenario is innovation and thinking unconventionally. Regardless of your business's size and genre, your consumers always look for dynamic ideas and value additions from what is currently available in the market and our product ideation services are bound to cater to your business's needs. TekMindz, a leading product engineering company in India, takes your unrefined concepts & ideas to blend them into well-defined objectives and pioneering product visions that will help your business cement a strong foothold in the cut-throat tech-dominating world. We have an enthusiastic team of product design and development experts who leverage their knowledge and explicit methodologies to push your boundaries and explore new opportunities and avenues for your business. To deliver stellar quality results to businesses, our pool of designers, strategists, developers, software QA experts, and architects work together to polish rough ideas into a super-duper product, that ultimately benefit your business in the long run.
The 4 key benefits of Product Ideation
It reduces the probabilities of non-utilized talents by leveraging the productive creative inputs from every resource
It highlights all the innovative points by mapping the useful perspectives and diverse experiences
It strengthens and aligns the development team and showcases the right path towards the common goal and objective
It generates innovative and productive ideas and for result oriented outcomes
Benefits of Ideation and Conceptualization
Here's a list of benefits of ideation and conceptualization for product companies.
It determines the capabilities of new products or services with a careful understanding of customer behavior & their preferences.
It helps give wider exposure to the market with a great understanding of regulatory requirements and industry standards.
It helps to counter the potential risks with explosive visibility and iterative control.
It helps bring ideas from the whiteboard to the market with recurrent product support to launch & host a product via partner network or own.
It helps deliver stunning user experiences with attractive visuals and seamless navigation.
It gives an opportunity to bring trained & skilled enthusiasts who can work on an offshore/onshore model.
The Advantage you get with TekMindz
We, at TekMindz, provide new product development services for startups, SMEs, and corporate giants that range from conceptualization, analysis, detailed engineering, and prototyping, testing and product maintenance and support for complete product design and development.
We have an innovative approach to product design that generally begins from groundwork on a compassionate understanding of business to deep analysis of the core concerns.
We effectively focus on examining the user preferences to gather better insights in a structured format.
We, after scrutinizing customer needs, organize and mould them into a final product.
Once we're done with research & analysis, our team frames ideas in the form of images, quotes, and visuals.
Our creative designers work with brand strategists to dig out simple & sophisticated sketches to deliver the message that's relevant and useful.
Our product designing and development team with their ground-breaking thought process brings out the best solutions to ponder the existing ideas.
Business goals lead us to the ideation feasibility with two different phases! These phases are:
1. Phase of Definition
2. Phase of Product Ideation and Product Discovery
There are several cases where after the ideation process; TekMindz has assisted the clients with Proof of Concept or PoC and with MVP. These can be easily worked on web app, tablets, mobile apps software and help in stimulating the interaction with clients and more.
At TekMindz, teams are also great in offering product ideation solutions and with all required capabilities.
TekMindz Approach towards Product Ideation includes
Complete research towards the insights and technical trends to tally with the market and client's need
Clients' involvement and goals determination along with challenges
Proper assessment of requirements and understanding the market
Strategic product ideation depending on unique objectives and goals
Fortitude on common business logic and market situation
Realistic strategy and goal setting with mission and vision
Following Considerations are Important for Product Ideation
Evaluate why the idea for developing the product is viable?
What are the possibilities for success?
How does the potential product add value to prospective customers?
Does the ideation reduce the overall cost of developing the product?
What is the overall cost-benefit of using ideation as a step before the development?
Are there potential issues identified?
Which are the processes that can help in mitigating or overcoming the issues?
Learn Why TekMindz for Ideation and Conceptualization
Product Mindset
Customers are able to introduce new products into the market that have a differentiating factor, as compared to existing products, through NPD and the design-thinking approach of TekMindz.
Ideation
Having TekMindz as their strategic and product engineering partner, customers are able to ideate and get new products developed faster and most cost effectively.
Compete and Win
TekMindz has helped its customers during the initial stages of market research for new product development. Based on our product experience expertise that comprises rapid prototyping, feasibility, and product design, our customers are able to stay ahead of competition.
Strengthen Market Position
Using a future-centric, new product development approach, our customers are able to meet their time to market requirements as we have helped them define the MVP that derives business outcome in terms of speed to market and cost.
Featured Highlight
Product Development & Strategy
Our product-thinking approach to new product development helped our customers to introduce new products into the market.
TekMindz Develops a Cloud Based Platform
The Client, a leader in electrical charging networks, required a platform that offered an end-to-end solution for the EVSE industry, based on industry open standards, and have the ability to adjust in the future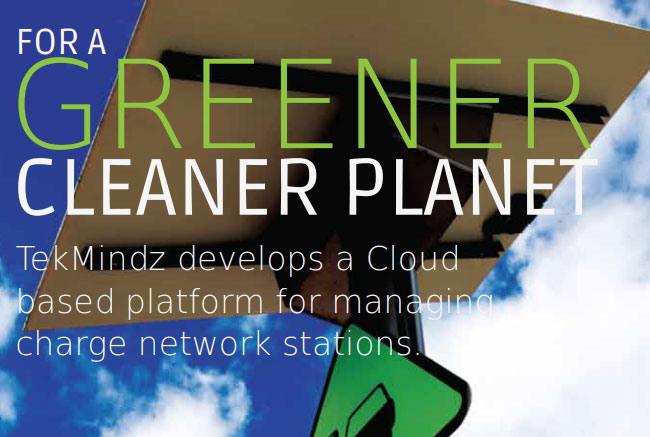 Making the Difference Through Technology
With the product thinking approach TekMindz has partnered with numerous government ministries and municipalities in over 20 eGovernance projects to help in achieving growth.
By using the product thinking approach, TekMindz integrated with a Core Banking Solution (CBS) of majority of banks of the region to build a secure online payment solution that made bill presentation and payment simpler and quicker. By using a future-centric, new product development approach, we helped our customers to meet their time to market needs which resulted in rapid validation, faster time to market, and cost reduction.
Check out our Insights section for case studies and white papers on our various innovative solutions.
View our Presentation to know how we have provided cost effective complete solutions to our clients.
Click on the Capability section to know about our offerings that we deliver with trust and transparency.
View the What's New section to know how we are helping our clients by using emerging technologies.