TekMindz has developed an electrical vehicle charging (a Green IT domain) management platform for EVSE in US. It facilitates not only site hosts (where EVs are hosted) but also network providers (usually electricity providers) to manage their end to end needs including real time reports.
As part of the solution we communicate with charge stations using OCPP protocol (1.5, 1.6). Numerous events are streamed between charge stations and the EV platform (developed for our client). These events are managed using messaging middle-ware which ensures high availability and horizontal scalability targets are achieved with associated deployment models.
We integrated directly with electricity utility provider to facilitate grid load management using our platform. We communicate with grid using openADR protocol where we exchange real time Demand Response (DR) events. These events are acted upon in real time and load management of the impacted sites/stations is automatically carried out as immediate reactive measures as per event needs.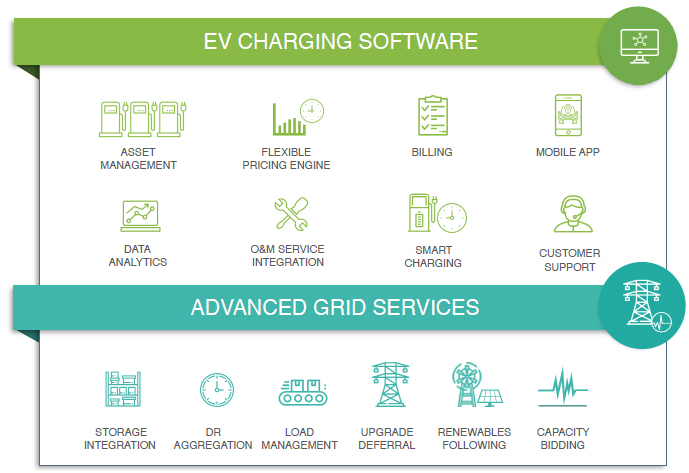 The EV Platform provides integrated solution with renewable energy sources (e.g. PV with Battery Storage) using which we are able to reduce "Demand Charge" of a site significantly by managing peak/off-peak energy consumption from grid. This not only result into cost saving to site hosts but also helps utility providers in avoiding expensive infrastructure scale up , which otherwise will be required to manage increasing peaks energy demand.
Monitoring dashboards are available from the platform which is updated in near real time in response to ongoing events in the system. The dashboards provides health of the system, site or location in real time while giving full insight into current and historical events for quickly understanding root cause of a problem. A number of analytical dashboards are available which helps in understanding the usage and consumption pattern for further planning of site and/or load distribution.
Unleash the power of Green IT - Cloud based platform for managing charge network stations.
Download as PDF

y