How Electric Vehicles Support Grid Balancing
The share of electric vehicles in the market is picking up at a rapid pace. Grid balancing services can help operators to avoid overloading their current grid system, thereby reducing peak loads. EV can transfer their residual charges back to the grid and balance the system in the smart car charging station.  So, with careful planning and implementation, electric vehicles can turn out to be the battery banks of the future. The introduction of intelligent charging technology could facilitate a green cycle, which would make the transport system cleaner and, at the same time, reduce pressure on the existing grids.
Existing EV infrastructure developer services are helping the utilities manage their grid system by implementing this technology and deferring any additional expenses.
The Advantage you get with TekMindz
We are experts in implementing smart strategies by partnering with charge station operation, fleet owners, and provide quick relocation of energy. We are a leader in developing cost-effective solutions for owners and operators.
TekMindz's Expertise in Grid Balancing
The grid developing and balancing services by TekMindz can help to shift EV loads and avoid overloading. TekMindz has:
Developed smart batteries using the vehicle to grid (V2G) technology to discharge electricity from the grid system and to regulate voltage fluctuations
Effectively utilized the EV batteries and helped to balance the load capacities on the grid and reduce wear and tear. This could avoid costly utility expenses
Partnered with EV charge point operators to minimize power outages and balancing power flows with vehicle charging solutions
Implemented smart technology and incentivized programs for the drivers. This will induce drivers to charge their EVs during low demand, thereby reducing energy overload.
Developed grid balancing services by implementing OpenADR2.0b for charge point operator
Implemented OCPI models across the EV structure
The driver's mobile app is built for both iOS and Android platforms and is updated with the newest features for EV owners' daily usage and benefits.
Get Started
We also provide system integrations with EV charging stations and use OCPP, OpenADR, OCP interoperability protocol implementation to achieve the fastest charging solutions for your business. So, what are you waiting for? Start your grid balancing journey with us and take the first step towards a greener and cleaner environment. Talk to one of our advisors for a free consultation.
Learn Why TekMindz for EV Industry
EV Expertise
TekMindz has a strong EV industry domain experience of 8+ years. We have developed EV charging platform comprising of OCPP, OpenADR, OCPI, analytics for utilities, fleets, eBus OEMs etc.
Single Stop Shop for EV Technology Services
We have done new product development, MVP, SAAS based, white labelled solution, mobile application development, product sustenance, modernisation, independent testing, maintenance, providing NOC support, embedded systems and have a strong partner ecosystem with consulting firms in this domain.
Accelerators
We have developed OCPP accelerator for web based CMS and mobile application that works as a starting point of development for CMS and saves the initial 3 to 4 calendar months of development. We have initiated the development of accelerator on OpenADR, fleets, and dashboard analytics
EV Academy
We are investing in learning new protocols like OCPP 2.0.1, V2G, 15118 etc. We also train new teams on protocols like OCPP 1.6, OpenADR, OCPIetc
Featured Highlight
Providing EV Charging Solutions for Long Term
We have been a technology partner for one of the leading EV charging turnkey solution providers in the US for more than 8 years, providing end-to-end solutions for them that are futuristic, based on SaaS principles, and have the competitive edge.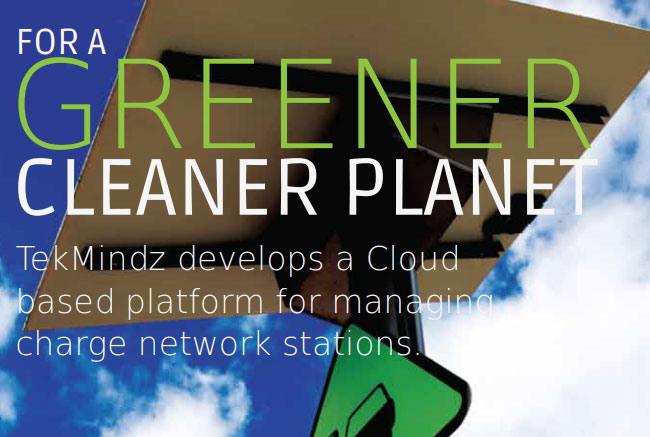 TekMindz's expertise in Professional Services and Managed IT Services can help your organization navigate a changing landscape and new technologies to create a more efficient, productive and secure business. With the latest tech and software tools, coupled by award-winning services, TekMindz can create a purpose-built solution that meets your organization's every need.
Fill in your contact details, one of our IT experts will get back to you shortly.
Check out our Insights section for case studies and white papers on our various innovative solutions.
View our Presentation to know how we have provided cost effective complete solutions to our clients.
Click on the Capability section to know about our offerings that we deliver with trust and transparency.
View the What's New section to know how we are helping our clients by using emerging technologies.