In today's competitive technology-driven world, no one gets a second chance to make a first impression. Regardless of the size and nature of your business, a clean and beautiful user interface is incredibly important for attracting and retaining users. User interface testing can be defined as the process of checking whether the software user interface fulfills all the respective requirements and it is convenient for the users to work. This testing type can be done either manually or utilizing various automated testing tools. Without proper knowledge or time, organizations run into problems and end up losing their substantial customer base.
TekMindz offers the best UI testing services for cloud applications, websites, mobile apps and web apps. Our software testing service experts deliberately focus on improving user experience and delivering superior performance. We have an experienced pool of testing experts who test different UI elements, input controls (includes the testing of list boxes, toggles, buttons, dropdown lists, fields, and many more), navigational elements (sliders, tags and search field are tested for its functionality and performance.), informational components (icons, progress bar, message boxes, and forms are efficiently tested to check its performance).
Benefits of UI Testing
Here's why you businesses should perform UI testing
It helps to find regression errors and reduce the significant margin of errors.
Test automation will give guaranteed consistency.
Unlike manual testing, it increases efficiency through automation.
It helps save time, resources and money.
It upgrades the information and keeps up to date.
Get a better software QA ticket quality.
The Advantage you get with TekMindz
We, at TekMindz, provide our clients with end-to-end UI testing services to address their UI concerns and meet their application requirements.
We ensure that graphical objects and window controls such as menus, buttons, lists, toolbars are easy accessible and well-organized.
Global considerations are rigorously followed (support for languages, fonts, and enough on-screen space for the translated text.
Our UI software testing experts ensure that on mobile devices it adapts seamlessly to all mobile network events, screen orientations, resolutions, and conditions, etc.,
We ensure that all UI components conform to visual prototypes, UI mockups, corporate terms, and user expectations.
Manual Based
Based on the domain and application knowledge of the tester
Capture and Replay
Based on capture and replay of user actions.
Model-based testing
Based on the execution of user sessions based on a GUI model.
Check Screen Validations
Verify All Navigations
Check usability Conditions
Verify Data Integrity
Verify the object states
Verify the date Field and Numeric Field Formats
Learn Why TekMindz for UI Testing
Reusable Test Assets
Based on our experience of working with multiple clients in various domains, we are able to provide solutions at the right time and in the right budget by usingmethodological testing approaches that include domain specific test cases, business process flows, and related use cases, process templates, and automation framework libraries.
Driven by Business Objectives
The software products should work for your users and for your business. Our methodological testing approach is focused on delivering business objectives and goals and the overall test plan preparation and execution is driven by this uncompromising philosophy.
Automation in the Planning Phase
We explore possibilities of test automation in the planning phase itself. We create a scalable, reusable, and flexible testing framework which starts delivering the benefits of test automation right from the first release of the product.
Testing COE
TekMindz's Testing Center of Excellence (TCoE) leverages the testing ecosystem to offer comprehensive testing solutions so as to deliver predictable quality and faster time to market for clients.
Featured Highlight
Creation of Quality Software with Comprehensive Testing
Our TCoE combines and establishes a comprehensive testing methodology with a wide range of industry standards and testing tools for its clients to get superior quality software, enhance business readiness, and realize competitive advantage
Helping Client with Robust Mobile Testing Applications
Our hands-on-experience in testing various natures of applications across different mobile OS from across service providers has helped us to devise an effective mobile testing strategy that promises of quality while keeping the budget in control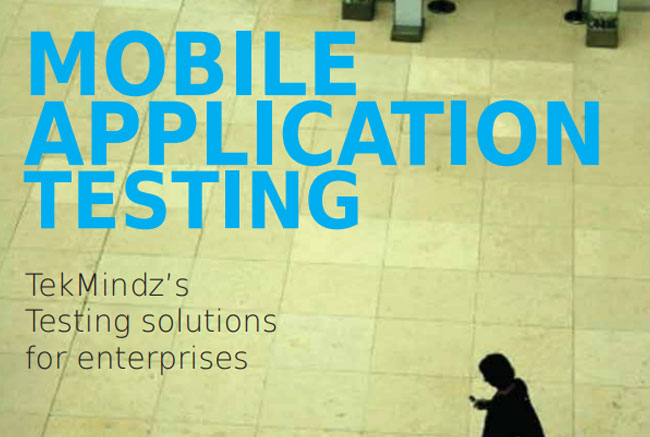 Featured Insight
Protecting our Clients with Security Frameworks
Enterprises nowadays need to protect business operations against security attacks and thus look for enterprise Information Security frameworks that protect against threats and damages. We at TekMindz help businesses in the appropriate selection and deployment of security infrastructure
Check out our Insights section for case studies and white papers on our various innovative solutions.
View our Presentation to know how we have provided cost effective complete solutions to our clients.
Click on the Capability section to know about our offerings that we deliver with trust and transparency.
View the What's New section to know how we are helping our clients by using emerging technologies.