Our electric vehicle smart charging network can be developed based on your requirement to function on a cloud-based SaaS platform.  Furthermore, it can also be licensed for use commercially across the globe. The custom solutions developed by TekMindz have been successfully deployed across thousands of sites and have been monitoring millions of charging sessions every month from an extensive number of connected chargers. Coupled with a custom-built EV energy app, our focus has been to enable our clients in expanding the charging business. Our EV charging network software solutions render unmatched flexibility, which helps to handle the EV charging stations from an exclusive location. We have emerged as one of the most reliable and popular software partner for EV charging solution network providers.
What can you expect from our network operation management?
You can expect the following capabilities from our Network Operating Central Services:
Monitor or keep track of an extensive network of charging stations in real-time
Have a clear view of the performances and the statues of the charging stations
Receive notifications from the chargers if any
Include or remove EV chargers remotely
Command the charging station remotely
Remotely start or stop the functioning of the smart charging station
Keep a track on the transactions per charging stations
Offer multiple pricing substitutes
Alter configuration settings
Monitor the energy consumption per every single EV smart charger
Schedule for maintenance activities
24*7 customer care center for notifying the users with the charger availability
Easy Communication between Networks through OCPP
Our solutions for charge network software are based on Open Charge Point Protocol (OCPP). This refers to the point that our network software can easily communicate between the different networks, charging stations, and the utility IT base. The facility owners get the opportunity through us to select from the vast array of charging stations available and transmit with other software programs, and finally, merge into the utility demand response platforms.
Our custom development offerings for electric vehicle charging software programs include a wide range of solutions of Network Operating Central Services including the network of software, hardware, and support solutions to ensure that you are on budget and schedule.
Insights
SKY
Database designed to capture high level information related to networks
Freshdesk
ITSM tool used to log incidents
Book a free consultation with one of our experts.
Interested in learning more about our solutions for improved EV Charging system using our Network Operating Central Services?
Learn Why TekMindz for EV Industry
EV Expertise
TekMindz has a strong EV industry domain experience of 8+ years. We have developed EV charging platform comprising of OCPP, OpenADR, OCPI, analytics for utilities, fleets, eBus OEMs etc.
Single Stop Shop for EV Technology Services
We have done new product development, MVP, SAAS based, white labelled solution, mobile application development, product sustenance, modernisation, independent testing, maintenance, providing NOC support, embedded systems and have a strong partner ecosystem with consulting firms in this domain.
Accelerators
We have developed OCPP accelerator for web based CMS and mobile application that works as a starting point of development for CMS and saves the initial 3 to 4 calendar months of development. We have initiated the development of accelerator on OpenADR, fleets, and dashboard analytics
EV Academy
We are investing in learning new protocols like OCPP 2.0.1, V2G, 15118 etc. We also train new teams on protocols like OCPP 1.6, OpenADR, OCPIetc
Featured Highlight
Providing EV Charging Solutions for Long Term
We have been a technology partner for one of the leading EV charging turnkey solution providers in the US for more than 8 years, providing end-to-end solutions for them that are futuristic, based on SaaS principles, and have the competitive edge.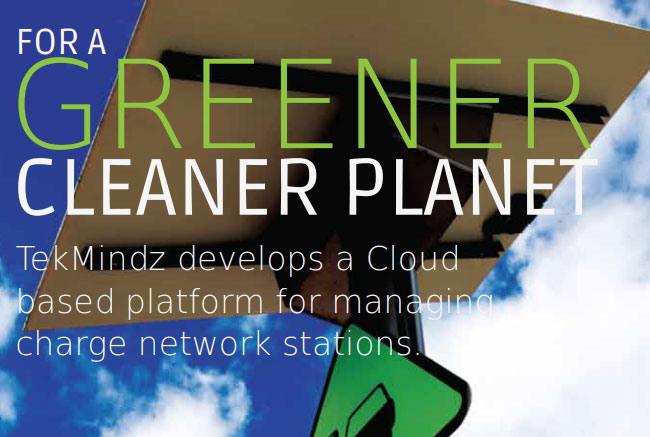 TekMindz's expertise in Professional Services and Managed IT Services can help your organization navigate a changing landscape and new technologies to create a more efficient, productive and secure business. With the latest tech and software tools, coupled by award-winning services, TekMindz can create a purpose-built solution that meets your organization's every need.
Fill in your contact details, one of our IT experts will get back to you shortly.
Check out our Insights section for case studies and white papers on our various innovative solutions.
View our Presentation to know how we have provided cost effective complete solutions to our clients.
Click on the Capability section to know about our offerings that we deliver with trust and transparency.
View the What's New section to know how we are helping our clients by using emerging technologies.