A network operations center or NOC (pronounced "knock") is a centralized location where TekMindz's IT engineers directly support the efforts of electric vehicles charging software and stations. The NOC team is heavily utilized in the managed IT services space, and is a tremendous driver of service delivery for many managed services providers (MSPs). NOC engineers and technicians are responsible for monitoring infrastructure health, security, and capacity on a client's environment. They make decisions and adjustments to ensure optimal network performance and organizational productivity.
The Benefits of Network Operations Center for EV
There are exclusive benefits that TekMindz delivers to network operations centers. These include:
Liaison with electrical contractors, installation and other field technicians for the activation of new site equipment
Providing full remote support to troubleshoot problems on the sites
Configuring and supporting electronic and digital devices used to monitor and control charging equipment
Monitoring and controlling network operations sites by leveraging real-time data to ensure maximum system uptime and availability
Ensuring corrective maintenance from data reports and inputs from field technicians, authorizing work schedules, submitting quality report to clients and more
Managing short and long term service schedules
The Advantage you get with TekMindz
TekMindz's engagement and delivery models are flexible and offer extensive support to ensure optimal performance of our clients' network operations. We offer:
24X7X365 round the clock support
Transitioning and joint support for the number of hours or on complete handling basis
Gathering tools requirement and providing network and server related tools solution
Planning the deployment architecture based on design specifications and network details
Planning networks, storage for tools, logs, etc.
Estimating the resource count and number of seats based on the network and work volume
TekMindz's Expertise in Network Operations Center
We support a variety of EV charging programs throughout the world leveraging our network operations center capabilities. We help bring EV charging infrastructure to workplaces, condos, apartments, retail businesses and residential neighborhoods for easy accessibility. Our offering portfolio includes the following:
Monitoring
Proactive and constant alarm monitoring of network elements 24×7
Port & Interface monitoring
Monitoring bandwidth consumption
Flow-based network traffic analysis
Rapid detection of threats and attack
Predicting and pinpointing network outages
Ticket management
Ticket handling as per defined SLAs
Problem management
Critical issues management with proper communications with the client
Performance and reporting:
Detecting performance degradation
Advanced reporting, alerting & notification via email
Network optimization
Performance monitoring and reporting
Analysis and improvement suggestions
Configuration
Configuration activities of new network elements
Integration of new NEs with the NOC
Addition of new route or patch, area into the network
Vendor and fault management:
Higher level support for fault management
Co-ordination with third party vendors
Case-log with hardware vendors
Learn Why TekMindz for EV Industry
EV Expertise
TekMindz has a strong EV industry domain experience of 8+ years. We have developed EV charging platform comprising of OCPP, OpenADR, OCPI, analytics for utilities, fleets, eBus OEMs etc.
Single Stop Shop for EV Technology Services
We have done new product development, MVP, SAAS based, white labelled solution, mobile application development, product sustenance, modernisation, independent testing, maintenance, providing NOC support, embedded systems and have a strong partner ecosystem with consulting firms in this domain.
Accelerators
We have developed OCPP accelerator for web based CMS and mobile application that works as a starting point of development for CMS and saves the initial 3 to 4 calendar months of development. We have initiated the development of accelerator on OpenADR, fleets, and dashboard analytics
EV Academy
We are investing in learning new protocols like OCPP 2.0.1, V2G, 15118 etc. We also train new teams on protocols like OCPP 1.6, OpenADR, OCPIetc
Featured Highlight
Providing EV Charging Solutions for Long Term
We have been a technology partner for one of the leading EV charging turnkey solution providers in the US for more than 8 years, providing end-to-end solutions for them that are futuristic, based on SaaS principles, and have the competitive edge.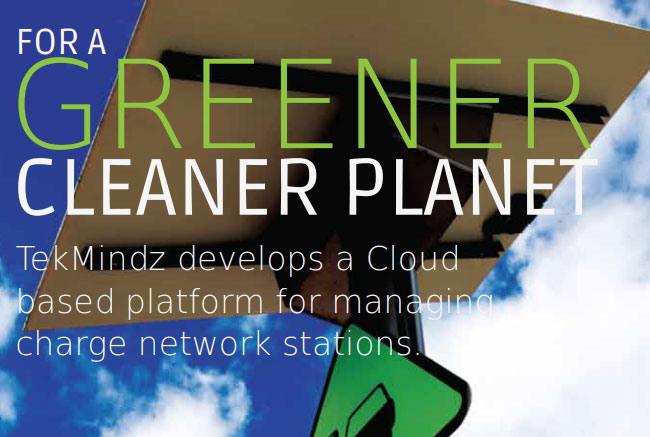 TekMindz's expertise in Professional Services and Managed IT Services can help your organization navigate a changing landscape and new technologies to create a more efficient, productive and secure business. With the latest tech and software tools, coupled by award-winning services, TekMindz can create a purpose-built solution that meets your organization's every need.
Fill in your contact details, one of our IT experts will get back to you shortly.
Check out our Insights section for case studies and white papers on our various innovative solutions.
View our Presentation to know how we have provided cost effective complete solutions to our clients.
Click on the Capability section to know about our offerings that we deliver with trust and transparency.
View the What's New section to know how we are helping our clients by using emerging technologies.