Overview
Central Server Management System Features
An EV charging station is also known as an electric recharging point or an EVSE. This infrastructure supplies electric energy to recharge the batteries in electric vehicles like electric cars, electric buses, e-scooters, and more. The EV station has in-built plug-in nozzles that the user needs to recharger his vehicle's battery. Generally, the EV charging stations are equipped with DC power supply but nowadays solar panel heating is also gaining in popularity. The EV charging software provides an integrated model with full hardware and software support to the clients.The management of charging stations involves full control access.This enables you to collect your bills via an OCPP software. The station management solutions also provide integrated access controls to the drivers to avoid the que by booking their spot in advance.
TekMindz's Expertize in Central Server Management System
We offer fully-custom application development, testing, and maintenance services for Central Server Management Systems and help you to integrate your EV charging platform. We provide tailor made solutions to our e-mobility and shared mobility operators. We are experts in providing end to end software scalability to improve your charging facilities.
How Our Engineering and Consulting Services Help Clients to Manage their Smart Charging Stations:
We offer premium solutions to our providers through station activation and configuration. We are committed to building premium and providing platform features and provide on-site maintenance for software applications. Some of the key features that can be built for smart charge station management systems include:
Safety features included with all EVSE charging stations 

so that users don't get shocks from currents while recharging their vehicles

Recharges can be done in any inclement weather conditions and indoor/outdoors. Rain, snow, sleet, low temperatures will not deter your charging
Three levels of charging options Level 1, 

Level 2, and DC fast charging

Wide Area network commercial network and 128-bit AES encryption

ISO standard smart card readers

Four plug types, single phase vehicle coupler, 

single and three phase vehicle couplers equipped with safety shutters, and fast charge

coupler for special systems
The Advantage you get with TekMindz
How our Smart Charging Management Benefits Businesses That Want to Have a Custom-built Station
We provide system integrations with EV charging stations and use OCPP, OpenADR, OCP interoperability protocol implementation to achieve the fastest charging solutions for your business. We are experts in providing OCPP 2.0 protocol accelerator (mobile based) solutions for efficient charge station management.
Book a free consultation
So, when you partner with TekMindz you get outstanding benefits of connecting with the best charging stations software as we can help station owners optimize their units.
Learn Why TekMindz for EV Industry
EV Expertise
TekMindz has a strong EV industry domain experience of 8+ years. We have developed EV charging platform comprising of OCPP, OpenADR, OCPI, analytics for utilities, fleets, eBus OEMs etc.
Single Stop Shop for EV Technology Services
We have done new product development, MVP, SAAS based, white labelled solution, mobile application development, product sustenance, modernisation, independent testing, maintenance, providing NOC support, embedded systems and have a strong partner ecosystem with consulting firms in this domain.
Accelerators
We have developed OCPP accelerator for web based CMS and mobile application that works as a starting point of development for CMS and saves the initial 3 to 4 calendar months of development. We have initiated the development of accelerator on OpenADR, fleets, and dashboard analytics
EV Academy
We are investing in learning new protocols like OCPP 2.0.1, V2G, 15118 etc. We also train new teams on protocols like OCPP 1.6, OpenADR, OCPIetc
Featured Highlight
Providing EV Charging Solutions for Long Term
We have been a technology partner for one of the leading EV charging turnkey solution providers in the US for more than 8 years, providing end-to-end solutions for them that are futuristic, based on SaaS principles, and have the competitive edge.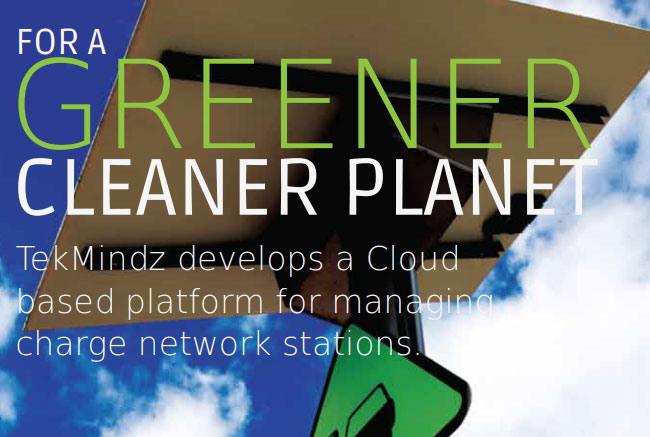 TekMindz's expertise in Professional Services and Managed IT Services can help your organization navigate a changing landscape and new technologies to create a more efficient, productive and secure business. With the latest tech and software tools, coupled by award-winning services, TekMindz can create a purpose-built solution that meets your organization's every need.
Fill in your contact details, one of our IT experts will get back to you shortly.
Check out our Insights section for case studies and white papers on our various innovative solutions.
View our Presentation to know how we have provided cost effective complete solutions to our clients.
Click on the Capability section to know about our offerings that we deliver with trust and transparency.
View the What's New section to know how we are helping our clients by using emerging technologies.