Overview
How Analytics and Dashboard are Bolstering Performance for Charging Stations
As the various players in the electric vehicle smart charging solutions space continuously look for new ways to optimize performance, the key to improvement lies in monitoring data to make improvements. TekMindz is committed to providing advanced analytics and data visualization capabilities to businesses in the electric vehicle Charging space to help them gain deeper insights into the health of their systems and to in turn provide seamless experiences to their end users.
Massive amounts of data generated by devices, vehicles, buildings, the power grid, and many other connected things combined with increased rates of data transmission pose major data challenges. Data generated by electric vehicles comes from various sources ranging from sensors to trip logs. By monitoring vast amounts of data and analyzing it by using big data techniques, we help to create smart charging algorithms, address energy efficiency issues and optimize power distribution systems to handle extra charging loads for better vehicle-to-grid operations.
Why TekMindz for Analytics and Visualization for EV Smart Charging Solutions
Since our inception, one of our sole purposes has been to deliver quick charging solutions to our clients. With thousands of charging stations already served, we are one of the pioneers in making electric mobility seamless and the most natural choice for vehicle owners.
Our portfolio consists of a network of unified interface of cloud solutions, application development and maintenance services, hardware services and technical support. We deliver top-notch experiences to EV drivers and EV operators. We've built reliable partner networks with many smart grid electric vehicle charging businesses – making it a profitable and a better space for everyone involved in the ecosystem.
The Advantage you get with TekMindz
Our tailor-made and fully customized electric vehicle charging software development and consulting services for e-vehicle charging incorporate a host of EV charging platform technologies for fleet companies, local and state governments, commercial businesses, residences and the retail sector.
Our expertise in data analytics for electric vehicle integration include:
Big data analytics platforms and EV integration
Optimized charging using Hadoop and HBase
Battery consumption prediction for improved accuracy of battery consumption using Hadoop and R statistical package
Charging meter data management for improved interoperability of heterogeneous chargers using Hadoop, Pig script, MySQL
EV status tracking by extracting raw data and transforming it into classified buckets using Hadoop and HBase
Book a free consultation with one of our experts.
Get in touch with our EV charging domain experts and we'll work with you to evaluate the right EV charging solution for you.
Learn Why TekMindz for EV Industry
EV Expertise
TekMindz has a strong EV industry domain experience of 8+ years. We have developed EV charging platform comprising of OCPP, OpenADR, OCPI, analytics for utilities, fleets, eBus OEMs etc.
Single Stop Shop for EV Technology Services
We have done new product development, MVP, SAAS based, white labelled solution, mobile application development, product sustenance, modernisation, independent testing, maintenance, providing NOC support, embedded systems and have a strong partner ecosystem with consulting firms in this domain.
Accelerators
We have developed OCPP accelerator for web based CMS and mobile application that works as a starting point of development for CMS and saves the initial 3 to 4 calendar months of development. We have initiated the development of accelerator on OpenADR, fleets, and dashboard analytics
EV Academy
We are investing in learning new protocols like OCPP 2.0.1, V2G, 15118 etc. We also train new teams on protocols like OCPP 1.6, OpenADR, OCPIetc
Featured Highlight
Providing EV Charging Solutions for Long Term
We have been a technology partner for one of the leading EV charging turnkey solution providers in the US for more than 8 years, providing end-to-end solutions for them that are futuristic, based on SaaS principles, and have the competitive edge.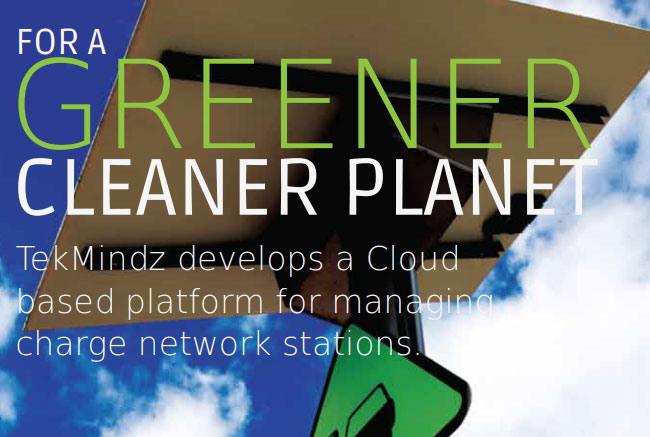 TekMindz's expertise in Professional Services and Managed IT Services can help your organization navigate a changing landscape and new technologies to create a more efficient, productive and secure business. With the latest tech and software tools, coupled by award-winning services, TekMindz can create a purpose-built solution that meets your organization's every need.
Fill in your contact details, one of our IT experts will get back to you shortly.
Check out our Insights section for case studies and white papers on our various innovative solutions.
View our Presentation to know how we have provided cost effective complete solutions to our clients.
Click on the Capability section to know about our offerings that we deliver with trust and transparency.
View the What's New section to know how we are helping our clients by using emerging technologies.