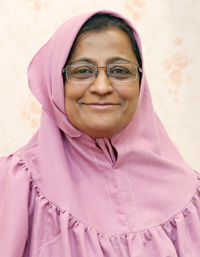 Samina Kanchwala has a Postgraduate Degree in Computer Science, Pune University (India) and Executive MBA, Lansbridge University (Canada) along with a Master of Management, American Graduate School of Management (USA). As CEO for TekMindz, Samina Kanchwala heads the company's growth and business expansion initiatives and provides the company its vision and strategic direction.
Samina Kanchwala brings Leadership with over 20 years of management experience including business setup, market positioning, strategic planning and execution in IT industry. She has a unique experience of being an entrepreneur and also having worked with large global multinational corporations. She has served as Country Manager and Managing Director at Gale Technologies (Lumenare), as Technical Director for Accelerated Networks, and held senior management positions as Business Unit Manager at RiverRun and Hughes Software. She has also served the government of India as Scientist in the Indian Defence Ministry's Defence Research Development Organization (DRDO).
Narender Dureja has a Postgraduate Degree in Computer Applications from National Institute of Technology, Allahabad. He has a Diploma in Business Management from ICFAI, Hyderabad. He is a Certified Professional in Hospital Information Management Systems (CPHIMS) from Hospital Information Management Systems Society (HIMSS), USA. He is also a Certified Chronic Care Professional (CCP) Health Coach from Health Sciences Institute, USA. Multiple Certificates to his credit like Design thinking for Innovation, Executive Data Scientist, Digital Product management etc.
Narender is a result oriented software services leader with 25+ years' experience across Consulting, Entrepreneurship & Innovation, Strategy, Mentoring/co-founding technology start-ups, Practice Setup, Product Development, Large Program Management, Offshore Development Centre Setup & Operations Excellence. He is a recognised thought leader for generating new business avenues for the organization/unit leading to newer Offerings, Customers and Geographies for net new business. He has been part of Value Creation Council to generate ideas and create value around Service Improvement, Revenue Generation, Cost Reduction etc. for customers.
He has worked with Start-ups, Mid & Large sized Indian Outsourcing Providers in the capacities of Advisor, Principal Consultant, Global Life Sciences & Healthcare Practice, Solutions & RFX Head, Rest of World Delivery Head, Analytics Head, Multi-service Delivery Head, Business unit Head etc. At TekMindz, he is responsible for Sales and Successful execution of Customer Projects.